There has been a huge increase in the popularity and use of leg gaiters in the last few years in the hunting community. I personally had never used a gaiter until 4 years ago. However once I bought my first pair and started using them in wet and snowy conditions, I instantly realized their value. High gaiters will help prevent the bottoms of your pants from getting soaked by wet vegetation or snow while also keeping your boot uppers protected from the elements. They can also help keep out water in brief and shallow (below the top of the gaiter) stream crossings. They are not waders so don't expect them to keep your feet dry while crossing a raging river!
I had the opportunity to personally go through and try out several of the most popular and newest hunting gaiters on the market and give my 2 cents about each of them. Below you'll find the features of each according to the manufacturer and then my own personal experiences using them. Some of my opinions may differ from others but they are based on my experience using gaiters while chasing everything from high country Mule Deer in the heat of August and September, to late season elk hunting in the bitter cold of January.
First Lite Brambler Gaiters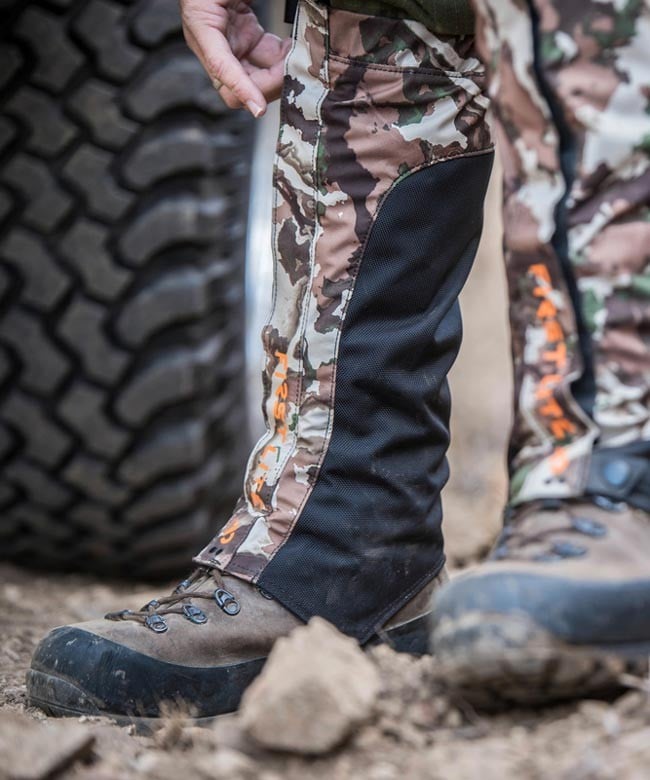 The First Lite Brambler Gaiters are built to take a beating with their coated Nylon straps, Cordura constructed insteps, and insanely tough seams. They will keep you dry and comfortable no matter the conditions or terrain. They utilize the same 37.5 by Cocona Technology which breathes like no other but is also extremely waterproof. They are currently only available in the Fusion camo pattern but I would like to see them in a solid color in the future. They are available in a S/M or L/XL. I have  16.5″ calves and the S/M fits me perfectly.