First Lite Kanab 2.0  vs.  First Lite Corrugate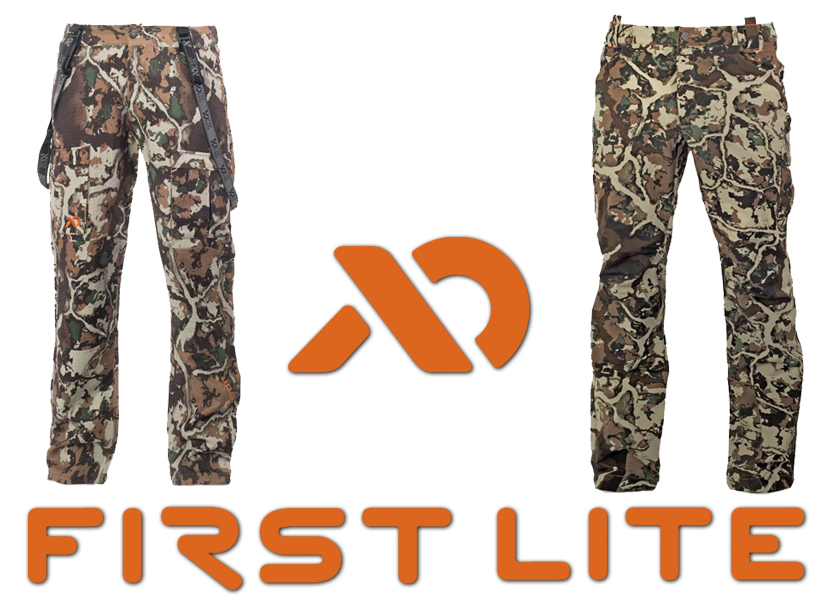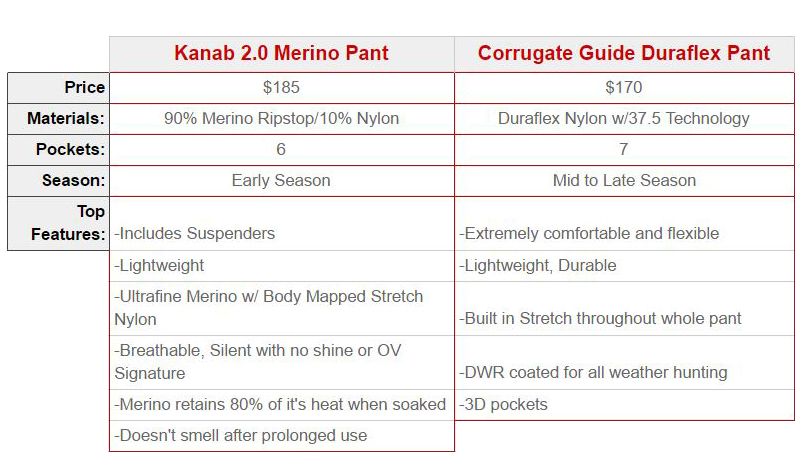 How to pick the right pant for you?
When it comes to picking the right pant for hunting season, a lot of properties come into the mix. You have weight, what materials, as well as fitting and overall hunting experience you're looking to get out of them. The best question isn't "What's the best one?" but "What's the best one for me?". To figure that out, I've gone ahead and compiled a list of major features and differences between both pants. This way you can pick with the confidence that you will get exactly what you want and expect out of the pair that fits your personal hunting needs. I personally own one of each and have used them for over the last couple of years and have been extremely impressed with both pants.
Kanab Pants Overview
The First Lite Kanab Pants were a game changer to the hunting industry. Nobody before had ever used Merino fabrics into a outwear hunting pant. This really defined how other manufactured viewed "Lightweight" pants and you could even say they were the pioneers for some of the technical pieces that are out now a days. Like every first timer, there is bound to be hiccups but last year they listened to their customer's feedback and redeveloped the Kanab pants which is now the Kanab 2.0. The major differences is on the older Kanab, the pant was made completely out of Merino Rip Stop which was awesome, besides in areas under sever stress. What was happening is that as people were stretching the fabric past it's limits, like lifting their legs over logs or hoping in the bed of a truck, the crotch had a tendency to rip open. Same with around the knees where that fabric was pulled tight on prone or kneeling positions. While I never had any issues with the original I was definitely a huge fan of the advancements they added to the Kanab 2.0. Now in those high stress areas you have a extremely durable nylon stretch material that not only holds up way better but allows complete freedom of movement to give you an overall better experience and feel when hunting in these pants.
The Kanab Pant is mainly designed for early season hunting. You can use it all year around, which I always did until last year, and it will perform just as great. The pants themselves just aren't as strong and as durable as the Corrugate and the one main thing for me was that the Kanab doesn't come with any DWR coatings so if it get's wet then it stays wet. The great thing about Merino is that even when it's wet it still contains about 80% of your body temperature compared to other fabrics but it still dries incredibly slow and you're still loosing that 20% of warmth that you really need in those late season months. Now Early Season… these pants run circles around the Corrugate. Feeling them side by side you would think that the Kanab's rugged Ripstop material looks heavier and less breathable but even hunting on days where it hit over the triple digits here in Utah I was still comfortable, while in the Corrugates I definitely felt the heat building, and staying.
If your're looking for the ultimate Early Season Pant then the Kanab 2.0 is your best option. Honestly, it's the only one of it's kind so you can't really compare it to let's say a Sitka Ascent, Under Armour Early Season Pant or even the Kryptek Valhalla. They are all great pants also but they're not Merino. They breathe, have Merino's natural scent control properties built in (instead of purged with chemicals), and it's great at keeping you warm in the coldest of nights.
Corrugate Guide Pants Overview
The Kanab was a huge success for First Lite and still is but a lot of hunters were looking for something a little more strong, flexible and "technical" in their hunting line. The guys over at First Lite absolutely killed it with the Corrugate Guide Pant. This pant is extremely comfortable, lightweight and just feels a little more fit for hunters. They shaved down a lot of the extra materials that is usually associated around your calf and ankles which mean less material to snag on BUT, a little tougher fit for those hunters who are a tad on the "bigger" side. The best way that I can think about comparing the sizing difference between the Kanab 2.0 vs the Corrugate is like comparing Boot Cut Jeans with Slim Straight/Skinny. Besides having a little better fit, the really cool thing about these pants are the material that it's made out of Duraflex. This highly stretchable and durable fabric comes infused with First Lite's signature 37.5 Technology which means they dry faster, cools your body more efficiently, naturally derived (like Merino), and the technology never washes out.
The Corrugates are more defined as a mid-late season pant and I would strongly agree with that. I have a dry earth pair that I picked up in the Early Spring and as soon as Summer started to hit, I could definitely feel the heat build up faster and not breathe as well as the Kanab 2.0. With that being said, I still wore them a bunch of times over the summer because they were so comfortable they replaced most of my jeans/shorts. I ended up just putting up with the extra heat. Now AFTER summer is where these pants really excel. The 37.5 Technology as well as the DWR coating that is put on from the factory helps keep you warm and allows water to bead off and not saturate the pant. One thing you have to remember when it comes to DWR is that it has to be cleaned every year. Luckily it's super easy to do. Either just pick up any scent free wash that isn't hard on technical fabrics such as Nikwax Tech Wash (Which we sell here) and that cleans out the pores of the DWR and allows it to keep repelling water. If you didn't wash it then eventually water will start soaking through.
The Duraflex fabric does a great job at keeping you comfortable in all hunting positions. I felt like I could stalk a lot quieter because my legs weren't snagging on scrub oak or sage brush because of the articulated fit and tighter feel. It also does a great job at stretching and not ripping. When you get into the technical fabric world, it's tough to find a fabric that repels water, is super quiet and is strong. Typically you get 2 out of 3 but never all. With Duraflex I was able to go through nasty scrub oak patches, climb rock faces and just be better cognizant of trusting the fabric to perform with me, not against me. For anybody wondering, on the later season hunts here in Utah I would typically wear either the Allegheny or the new Glenbrook First Lite base-layers underneath these pants. I felt they were plenty warm enough for what I was doing but I am also more of an active spot/stalk hunter and don't do a ton of sitting around besides glassing.
Conclusion
So which one is for you? That is totally up to what you are looking to get out of the pants. If you hunt all year around and are looking for the most durable and functional pant then the Corrugate is your pick in my own opinion. You might be a little uncomfortable in the early season hunts, especially here out West but they are durable and will do everything you need an more. If you hunt the opening weekend at the end of summer and are just looking for the lightweight option and you're an active hunter than the Kanab 2.0 are the ones for you. Both pants work awesome on all seasons but each were built and designed for separate uses.
Choice based on Season:
Early Season (May – Aug): Kanab 2.0
Mid Season (Aug – Sept): Kanab 2.0/Corrugate
Late Season (Sept – Dec): Corrugate