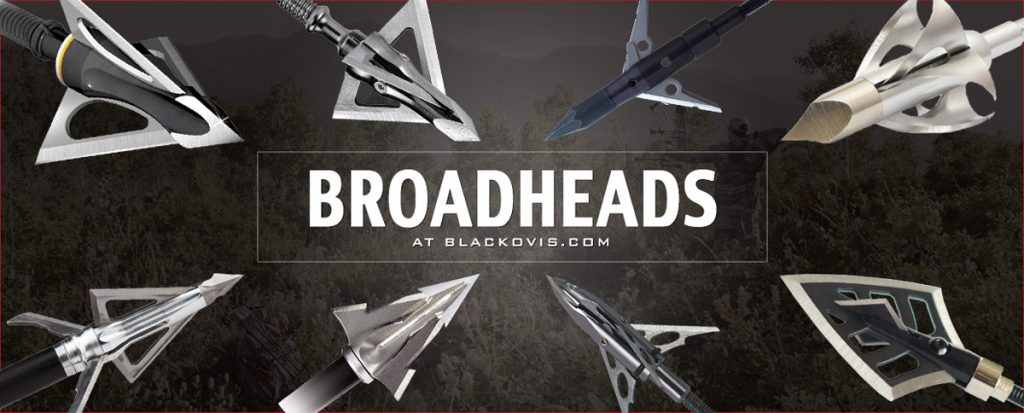 We pride ourselves at BlackOvis.com on being in the loop on new products and we strive to research every new offering and carry products that we think set our customers up for success. Every item we carry on BlackOvis has been scrutinized and meets or exceeds our standards. Every year we anxiously wait to see what new products and innovations are announced and decide what makes the cut to be on the site. The trend in broadheads for 2019 was stronger designs and better materials. This year we are excited to offer eight new broadhead models from 5 different companies. Each of these models has traditional characteristics of a quality broadhead. Strength, sharpness, good flight, and quality construction. Whether you want to shoot a two, three, or four blade, fixed or expandable broadhead we have you covered.
– Fixed Blade –


G5 Striker V2 – This is version 2 of the classic Striker design and is offered in both 100 and 125 Grain. The new design offers a larger 1.25" cutting diameter and a solid machined steel ferrule. Popular features like the Lutz blades and Anix blade lock system remain. If you liked the old Striker you will love the V2.

Grim Reaper Hades Pro/Micro Hades Pro – The Hades/Micro Hades Pro takes features from the original Hades like the blade lock system and rear sharpened blades and teams it up with Pro Series Ferrule. Both Broadheads re offered in 100 or 125 grain and 3 or 4 blade design. The Micro has a 1 1/16" cutting diameter and the Pro is 1 3/16" All Grim Reaper Broadheads are proudly made in the USA.

Dirt Nap Alpha – The Alpha is the newest broadhead from Dirt Nap. It's all steel design in a compact package makes the Alpha Dirt Naps toughest head. The Alpha has a 1 ¼" main blade and ⅝" bleeder blade. The Alpha also features Dirt Naps modular weight system so you can quickly change one broadhead from 125 or 100 grains.

Wasp Havalon – The Havalon by Wasp features and aerodynamic, ultra compact aluminum ferrule and .035 stainless steel blades for a total cutting diamter of 1 3/16". Each pack of broadheads comes with 6 replacement blades, so you can shoot your bradheads to practice and then swap the blades and hunt. Available in 100 Grain only.
– Expandable –


Rage Hypodermic NC – If you were a fan of the original Hypodermic or any of the other Rage models you will love the Hypodermic NC. The NC stands for "No Collar." The days of clips, collars, O rings and rubber bands are gone. This 2 blade broadhead is only available in 100 grains and sports a 2" cutting diameter.

Grim Reaper Pro Series – We are super excited to now be able to offer Pro Series Offerings from Grim Reaper. Including their 3 Four blade expandable broadheads.

Carni Four – The Carnifour boasts the largest cutting diameter of Grim Reaper's 4 blade expandable lineup. You get two blades with a cutting diameter of 1.1/2" and two more blades with a cutting diameter of 1.1/4" for a total of 2 3/4" of cutting edge! The Carnifour is available in 100 or 125 Grain. All of the grim reaper broadheads are proudly made in the USA.

Pro Series 4 blade – Based on the classic Grim Reaper design with no O rings or Rubber bands. Very similar to the carnifor but with a cutting diameter of 1 ⅜" and only available in 100 grain.

Mini Mag – The smallest of the Grim Reaper four blade broadheads has a 1 ¼" cutting diameter. Available in 100 or 125 Grain.